The SOTA Water Ozonator produces a fresh glass of ozone water for drinking, to increase oxygen and give a fresher taste.
Everyone can benefit from more oxygen, it makes us feel more alert
As a result of environmental pollution, there is less oxygen in our air and water today. Drinking Ozonated drinking water provides a safe and gentle increase in oxygen.
Ozone is one of nature's cleanser, it purifies our air, soil, and can sterilise our water. Ozone has become a well-known source for sterilizing water systems and bottled water. Laboratory testing using a SOTA unit to sterilize water, proved several virulent pathogens were killed.
The Water Ozonator uses an advanced Corona Discharge method to produce ozone, this method produces a more consistent and higher output of ozone compared to the alternative UV light method.
The Sota Water Ozonator is a thoroughly tested and professionally designed unit that operates per specifications.
Specifications of the Sota Water Ozonator:
- Easy to use.
- Automatic timer.
- Ozone output is greater than 200mg/hour.
- Portable: Operates from 12 volts.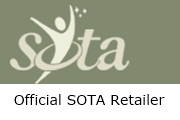 Video:
Demonstration of the Sota Water Ozonator.
Warnings:
- Do not breathe in Ozone directly. In higher concentrations, ozone may damage delicate tissue in the lungs.
- Always operate the Water Ozonator unit in a well-ventilated area—such as under a stovetop exhaust fan.
- Do not leave the unit unattended while it is on.
- Do not operate the unit without the built-in air pump running. If the air pump is not running, there will be no bubbles coming from the airstone.
- As with all electrical products do not immerse the electrical components in water.
- Unplug the wall adaptor when not in use.
Disclaimer:
The opinions stated are the views of HealthRange.co.uk and do not represent the opinion of SOTA Instruments. The SOTA units are consumer products designed for relaxation, well-being and to complement a healthy lifestyle. The SOTA units are not medical devices nor are they intended to diagnose, treat or cure any medical or health condition. The use, safety and effectiveness of the SOTA units has not been approved by any government agency. Please consult a health practitioner for any medical or health condition. Results are not typical.
Warranty:
2 Year Parts and Labour Warranty on internally mounted components.
FREE UK Mainland Delivery on orders over £30.
We will dispatch your order as quickly as possible but please allow a dispatch time of up to 5 working days for busy periods.
The shipping cost is calculated in the basket before you enter any personal details. UK Mainland delivery is free over £30.00 (£40.00 for Scottish Highlands).
Please read our full Terms & Conditions Here.
Returns
If you change your mind
If you change your mind, you can return items within 14 days from receipt if they have not been used and are still in their original packaging. To begin the returns process, please e-mail info@healthrange.co.uk to request a returns number. We will email you back with the return address and return instructions.
Damage in Transit
If items arrive damaged, please sign for them as damaged with the courier if possible. Please notify us immediately at info@healthrange.co.uk and provide images of: The damaged item, the outer box/packaging, the internal packaging. Please do not discard packaging as it may be needed. We are sorry but we cannot process claims for damage without photographic evidence.
Loss in Transit
If your order does not arrive in the expected time period, please email info@healthrange.co.uk as soon as possible.
We aim to resolve all issues as quickly as possible, and we will keep you updated throughout the process by email.
Please read our full Terms & Conditions Here.