The Sota Silver Pulser has two functions:
- Micropulsing offers gentle microcurrents that work with the body's natural electricity for more energy, general health and well-being.
- Make your own Ionic Colloidal Silver. It is one of nature's gifts and can be made easily and inexpensively at home.
The Ionic Colloidal Silver produced is of the finest quality and is produced at a rate of 5-8ppm (part per million) in just 2 hours for 16oz of distiller water. The Ionic Colloidal Silver partical size is mostly ions, with colloidal particles in the range of 0.005 - 0.015 microns.
The Sota Silver Pulser features a built-in constant current adaptor for the ultimate in Ionic Colloidal Silver production.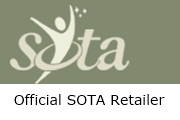 The Sota Silver Pulser SP7 Comes With:
The Silver Pulser SP7 comes with everything that you need to use as a battery operated unit. The SP7 is the very latest model from Sota that has the added features of a longer battery life and an audible low battery warning beep.
Includes:
- 1 Silver Pulser
- Carrying Case
- Product Manual
- 1 Micropulsing Cord
- 2 Pair Rubber Probes
- 6 Pair Cotton Sleeves
- 1 Arm Band with Clip
- 1 Neoprene® Velcro® Wrist Strap
- 1 50 ml Dark Glass Dropper Bottle
- 1 9–Volt Alkaline battery
- 1 Silver Wire Holder
- 2 Silver Wires of .9999 (4 Nine) Purity – 20cm (8 inches) long
- 1 Green Scrubber Pad
Optional Accessory:
- UK or EU Mains Adaptor (for making Colloidal Silver).
Videos:
Sota Silver Pulser Micro-Pulsing Demo (left) and a Sota Silver Pulser Colloidal Silver Making Demo (right).
Output Specifications:
The output voltage is a nominal 31 Volts.
Micropulsing Application – Frequency through electrodes is ~3.92 Hz, ½ of the Earth Schumann frequency of 7.83 Hz, (+/- 1 Hz) with a Bi-Phasic Square Wave @ 31 Volts (+/- 1 Volt) peak per cycle. Maximum current through the electrodes is ~8 milliamperes into 1,000 ohms, ~12 milliamperes into a short circuit at 31 Volts peak per cycle.
Ionic~Colloidal Silver Generator with Constant Current Output – The maximum current through the Silver Wires is 1.5 milliamperes (+/- 0.5 mA) at 31 VDC compliance voltage when the Silver Wires are touched together to short the circuit.
Warnings:
Do not use in the following situations as safety has not been explored:
- In the case of pregnancy, nursing or trying to get pregnant.
- With a pacemaker or other active implanted device.
- If taking a pharmaceutical or recreational drug.
- With Neuropathy or other nerve-ending related issues.

Do not drink Ionic Colloidal Silver in the following situations as safety has not been explored:
- In the case of pregnancy, nursing or trying to get pregnant.
Disclaimer:
The opinions stated are the views of HealthRange.co.uk and do not represent the opinion of SOTA Instruments. The SOTA units are consumer products designed for relaxation, well-being and to complement a healthy lifestyle. The SOTA units are not medical devices nor are they intended to diagnose, treat or cure any medical or health condition. The use, safety and effectiveness of the SOTA units has not been approved by any government agency. Please consult a health practitioner for any medical or health condition. Results are not typical.
Warranty:
SP7 Unit: Year Parts and Labour Warranty on internally mounted components.
Micropulsing Cords: 6 months warranty on cords. For longer cord life, do not store the micropulsing cord plugged into the unit and coil loosely.
FREE UK Mainland Delivery on orders over £30.
We will dispatch your order as quickly as possible but please allow a dispatch time of up to 5 working days for busy periods.
The shipping cost is calculated in the basket before you enter any personal details. UK Mainland delivery is free over £30.00 (£40.00 for Scottish Highlands).
Please read our full Terms & Conditions Here.
Returns
If you change your mind
If you change your mind, you can return items within 14 days from receipt if they have not been used and are still in their original packaging. To begin the returns process, please e-mail info@healthrange.co.uk to request a returns number. We will email you back with the return address and return instructions.
Damage in Transit
If items arrive damaged, please sign for them as damaged with the courier if possible. Please notify us immediately at info@healthrange.co.uk and provide images of: The damaged item, the outer box/packaging, the internal packaging. Please do not discard packaging as it may be needed. We are sorry but we cannot process claims for damage without photographic evidence.
Loss in Transit
If your order does not arrive in the expected time period, please email info@healthrange.co.uk as soon as possible.
We aim to resolve all issues as quickly as possible, and we will keep you updated throughout the process by email.
Please read our full Terms & Conditions Here.