Bio Tuner BT9
The Bio Tuner delivers a broad range of harmonic frequencies. These frequencies promote a sense of well-being and relaxation, a key component of any Wellness Lifestyle. The Bio Tuner is an easy-to-use, portable relaxation system.
How to use the Sota Bio Tuner:
Ear Clips are placed on the lobe of each ear as close to the jaw as possible. The unit offers six comfort settings or modes.
The Bio Tuner is timed for a ~20 minute cycle. A Bio Tuner session can be 1 to 2 cycles (20 – 40 minutes). The Bio Tuner can be used daily for up to 3 sessions spaced throughout the day. The number and length of a session is a personal choice, based on your own wellness goals. It often takes at least 30 consecutive days of use to experience benefits.
The Sota Bio Tuner BT9 comes with everything you need:
- 1 x Bio Tuner.
- Carrying Case.
- Product Manual.
- 1 Cord with Ear Clips.
- 1 Arm Band with Clip.
- 1 9–Volt Alkaline battery
Features of the Sota Bio Tuner BT9:
- The frequency output of the BT9 Bio Tuner is Quartz Crystal controlled for highest accuracy.
- The base frequency 1,000 Hz is modulated by 111.11 Hz.
- The unit has a built-in digital timer.
- The unit offers six different settings or modes. Two of the modes, Mode 3 and Mode 6, incorporate the Schumann or Earth frequency of 7.83 Hz.
- LED lights indicate a) the unit has sufficient power b) the circuits are operating properly c) which mode is operating.
- The unit outputs a broad range of harmonic frequencies.
- The output transformer is coupled to prevent Direct Current (DC) from appearing at the output.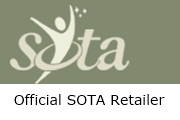 Output Specifications:
1,000 Hz Squarewave (+/- 1 Hz) pulse-modulated by 111.11 Hz (+/- 1 Hz) Squarewave. Waveforms are Quartz Crystal-Controlled for precise frequency output. There are also a broad range of harmonic frequencies delivered in each pulse as observed on a frequency domain (not time domain) spectrum analyzer.
Pulses are Bi-Phasic (AC) with no direct current (DC) or offset bias. Output is transformer coupled so that no DC can appear at electrodes. The algebraic sum of positive and negative-going pulses is zero.
Warnings:
Do not use in the following situations as safety has not been explored:
- In the case of pregnancy.
- With a pacemaker or other active implanted device.
- With seizures or psychotic conditions.
- With Neuropathy or other nerve-ending related issues.
As with all electrical products do not use:
- Near water.
- When driving a car.
- When operating heavy equipment.

Do not:
Suddenly increase the intensity to the maximum level. The intensity should be increased gradually to a comfortable level to ensure safety.

Connect the Bio Tuner Cord to any other USB outlet, such as a computer or power supply. Do not plug any other USB connections into the Bio Tuner, other than the Bio Tuner Cord.
Cautions:
If you are on psychiatric medication, have a neurological condition or seizures, please consult your health care provider prior to using the Bio Tuner.
In very rare instances, individuals have reported the onset or worsening of tinnitus when using the unit. If you experience tinnitus or a ringing in the ears, please discontinue use.
In very rare instances, individuals have reported experiencing headaches or nerve pain when using the unit. If you experience headaches or nerve pain, please discontinue use.
While this technology is generally considered safe, there exists potential for rare individual reactions that cannot reasonably be foreseen. Therefore, your use of the SOTA Products constitutes your agreement that you are responsible for your decision to use the technology.
Disclaimer:
The opinions stated are the views of HealthRange.co.uk and do not represent the opinion of SOTA Instruments. The SOTA units are consumer products designed for relaxation, well-being and to complement a healthy lifestyle. The SOTA units are not medical devices nor are they intended to diagnose, treat or cure any medical or health condition. The use, safety and effectiveness of the SOTA units has not been approved by any government agency. Please consult a health practitioner for any medical or health condition. Results are not typical.
Warranty:
3 Year Parts and Labour Warranty on internally mounted components.
FREE UK Mainland Delivery on orders over £30.
We will dispatch your order as quickly as possible but please allow a dispatch time of up to 5 working days for busy periods.
The shipping cost is calculated in the basket before you enter any personal details. UK Mainland delivery is free over £30.00 (£40.00 for Scottish Highlands).
Please read our full Terms & Conditions Here.
Returns
If you change your mind
If you change your mind, you can return items within 14 days from receipt if they have not been used and are still in their original packaging. To begin the returns process, please e-mail info@healthrange.co.uk to request a returns number. We will email you back with the return address and return instructions.
Damage in Transit
If items arrive damaged, please sign for them as damaged with the courier if possible. Please notify us immediately at info@healthrange.co.uk and provide images of: The damaged item, the outer box/packaging, the internal packaging. Please do not discard packaging as it may be needed. We are sorry but we cannot process claims for damage without photographic evidence.
Loss in Transit
If your order does not arrive in the expected time period, please email info@healthrange.co.uk as soon as possible.
We aim to resolve all issues as quickly as possible, and we will keep you updated throughout the process by email.
Please read our full Terms & Conditions Here.